We received a call for help from a sad solar homeowner that had his system "installed" by a fly by night contractor.  Even though he was licensed (in some form or fashion) he had no reason to be installing solar.  The homeowner, "Mr. Sad" faxed over the contract he signed to have 26 – 235 watt Samsung solar modules and an SMA 6000 inverter installed on his home.  The installation was abandoned and calls to the contractor went unanswered.  Unfortunately they were fully paid.  A check online showed no permit pulled and a trip to the residence revealed more of the disaster.
On a north-side, nearly flat, partly shaded roof were several Sharp modules partially mounted.  Many were laying flat or leaning against a wall, along with a bundle of rail.  They sat like this for over a year waiting to be blown off.  (Two blew over)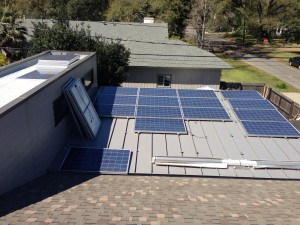 We began looking for the SMA 6000 inverter that was listed on the contract but instead found a SMA 3000 mounted in a strange inside closet.  "Mr. Sad" showed us a box of leftover equipment which contained 5 – dual micro inverters and 9 regular micro inverters.  It definitely looked like someone was clearing out the last of their equipment as no one would have designed anything like that.
We went to the south facing roof (where the array should have been installed) and found 12 "L-feet" lag bolted directly into the shingles without any flashing or waterproofing.  On the east roof there were 12 more.  It appeared to be about 2 hours of labor, and all wrong.
Since the customer was told that the system was nearly complete, he signed the payment authorization and then the contractor was never heard from again.

Should the customer have looked on the roof to see if his solar was installed?  Yes.  Should fly-by-night contractors be stopped?  Yes.  Should you go with Gulf South Solar? Yes.
(UPDATE) We installed the system and supplied the missing equipment and repaired the roof for $8000.  The customer is excited that they now have a working, correctly installed system.  And yes, they put our sign in their yard!
It's a great day for solar!  Give us a call at Gulf South Solar, 225-932-0035
Thanks – Jeff Shaw – NABCEP Certified Installer