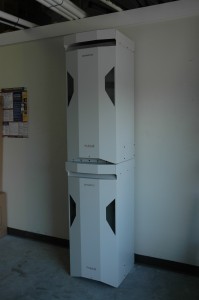 Last week, Gulf South Solar received its 1st shipment of Outback Power's new product offering – SMARTRE.  SMARTRE,from OutBack Power, is a simplified grid-tie solar system with back-up power for residential and small commercial applications. SMARTRE is the ONLY grid-tie inverter system with back-up power that does not have to be installed indoors. The specially designed case protects the inverter and batteries from the elements – saving homeowners valuable indoor storage space.
Gulf South Solar is also the first company in the country to install SMARTRE. The home, which is near Slidell Louisiana, has a 2.5kW system. Our installers report that it is the easiest grid-tie /battery back-up inverter to install yet! SMARTRE units are in stock now and are available for dealer purchase or customer installations.
Gulf South Solar is your Authorized Distributor of SMARTRE by Outback Power for the state of Louisiana.Gulf South Solar distributes, designs and installs Outback products for retail (homeowners) and wholesale (dealers/installers).