SolarWorld and Gulf South Solar bring power to Respire Haiti
The Beginning
One 45 minute visit to the rural community of Gressier, Haiti changed 24 year old Megan Boudreaux's life forever. From that one trip alone, she witnessed the hardships of the children living in Gressier, and how the local restavek tradition of using orphaned and abandoned children as child slaves stunted the development of the community. Gulf South Solar owner, Jeff Shaw, traveled with Megan on one of her many visits to Haiti and was impressed with her focus and determination to help make a difference in the community of Gressier.
After returning to her native Louisiana, Megan had a vision to empower the children and community and felt called to return to Gressier to help aid them in education, sustainable living, and economic development. In December 2010, she founded Respire Haiti, one of the most successful non-profit organizations currently in Haiti. The organization was created from a vision to aid restavek orphans and vulnerable children. Being a proactive example against the restavek tradition, Megan adopted   two girls Michaelle and Jessica, and became a member of the Gressier community. Her drive and determination to provide the basic necessities of living for all the children of Gressier has helped to create an awareness program against the restavek tradition. In addition, she has facilitated the building of a new school, a medical facility, a recycling program, and skills and language classes to aid in future job placement and creation for these children. From Megan's one, 45 minute visit to Gressier, she has been able to positively change the lives of those in the Gressier community. Her passion to aid her new community in Haiti grows every day. With her adopted girls in mind, she hopes to aid in developing a sustainable community for not only her girls, but for every child in Gressier.
The Restavek Tradition
A restavek is a child who is given up by his or her parents to a higher socioeconomic family, due to the parents' lack of resources to raise and support their child. The child may be as young as four or five when given to the employing family, and usually can no longer contact his or her natural family. It is quite likely, that the child has only a vague notion of where he or she comes from, age, or family surname. The restavek child is inherited, not as an adopted child, but as a modern day slave. The child usually performs the bulk of the household labor, without pay, and is typically not treated like a family member. The child is therefore unlikely to attend school, even if the family's children attend school; to eat with the family; or to eat the same quality of diet as the family.
If the restavek child is unhappy with the adopted family, mistreated, beaten, or sexually abused, there are no effective laws to protect and assist the child. In fact, the unhappy or abused restavek child is left to solve his or her own problems. Most restaveks do not remain as the property of the restavek families forever, and, at a certain age, are forced to find work. In most cases, adults who grew up as a restavek have extremely limited opportunities to change the circumstances of their lives as they grow older because of the limitations of education, skills, and development.
Haiti's tradition of owning restaveks deprives the child of the most basic human and civil rights: rights to family, education, health care, childhood, leisure, shelter, and nutrition. This in turn only continues the never ending cycle of poverty in Haiti.
Respire Haiti's Mission
The overwhelming number of restaveks moved Megan's heart to help make an impact in her. In January 2011, she moved to Gressier permanently to her new community. Since her move, she has focused majority of her efforts in alleviating the restavek crisis through education and relationships. By creating a relationship with the community leaders, elders, parents, and young adults of her community, she has been able to educate them about the negative effects the restavek tradition has brought upon their children and nation. This method ultimately helps to bring awareness of respect and equality for all children of Haiti, in the hopes to stop the practice of owning restaveks.
Along with stopping the restavek practice, Megan created Respire Haiti to help create sustainable solutions and empower the people of Gressier. One of the first opportunities she wanted to help provide for the children of Gressier was their education. Respire Haiti has been able to construct a new, nationally accredited school that educates over 500 students ranging from Kindergarten to 9th grade, and is currently constructing a secondary school. Out of the 500 students that are currently enrolled, more than 70% of them are restaveks. The education that Respire Haiti can provide for these children, are priceless to Haiti's economy alone. According to UNICEF, only 2% of the children of Haiti finish secondary school. With a shocking statistic as this, the lack of education leads to a lack of trained skills, and proper employment for the various ministries in Haiti to help create a more developed nation.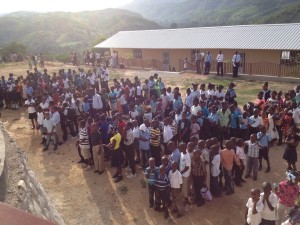 The students gather for the 1st day of school at RHCS (October 1, 2012)
Respire Haiti Christian School (RHCS) is different from the average private school in Haiti. If a student cannot pay his or her school fee, the child is still admitted into the school. RHCS has a school sponsorship program, whereby individuals can sponsor a child to attend school at a low fee of $250 USD a year. The fee not only provides the child's school fees, but also provides the child with basic medical and dental needs at Respire Haiti's medical facility, uniforms, books, school supplies, and breakfast. What makes RHCS unique compared to the other schools, is that it was established with the community in mind. It was their desire to create a community equipped to empower, educate, and encourage children and adults in Gressier.
During the building of RHCS, local residents constructed the school, creating jobs within the Gressier community. To improve both the issue of poverty and trash in Gressier, Respire Haiti partnered with Executives Without Boarders and Haiti Recycling to begin Ramase Lajan, a Haitian Creole phrase that means "picking up money." The recycling program helps make an environmental impact on the community while providing those involved with funds to save and invest in their children's education, farmland, or everyday necessities.
Besides giving opportunities of job creation, job skills, and environmental cleanup, RHCS has created various programs to bring both language and life skills to Gressier. One program that RHCS currently has is an English class. The class offers two English classes, three days a week on the school's campus. The English classes allow those participating to practice speaking and conversing in English. Relationships between the Respire Haiti interns and groups are further established when participating in these classes with the local Gressier residents. Not only do they provide English classes, but Respire Haiti offers a soccer program that focuses on teaching students the fundamentals of soccer and valuable life lessons such as respect, discipline, teamwork, success, failure, dedication, and hard work.
RHCS waiting for solar modules to provide electricity (June 2012)
Developments
All the programs and activities associated with RHCS have provided hope within Gressier to one day become a developed community, but Megan's vision for a self-sustaining community is not complete, with new plans developing monthly. As of September 2012, construction of five additional classrooms has begun and will be completed by December 2012. It is Megan's dream to create one of the classrooms into a computer laboratory for the students to use as a resource, language, and an interactive math and science center. Although this dream is underway and almost complete with 20 computers already donated to Respire Haiti for RHCS, there is no electricity to power these computers.
Megan's plan for the computer lab includes a language area where students can learn French. In Haiti, children are born and will learn to speak Creole, their mother tongue language. This unfortunately is a disadvantage for students, because their national exams are in French. The computers can be a good resource for the primary students learning the French language.  French software would help the students to be more interactive in hearing and seeing the language in different ways. Studies have shown that students who have passed the national exams with higher grades, were more advanced in their French language classes. This correlates to being accepted to higher ranked universities and getting better job opportunities in the future. Besides language training, the computer labs can be used as a science and math learning center. With advanced science and math skills, students can gain an interest in technological sectors for innovation in the future, something that is needed for Haiti's recovery and economy.
The Need and Our Request
We asked, and SolarWorld partnered with us to provide electricity to the students at RHCS. SolarWorld provided 30 modules, which is almost 8,000 watts.  Gulf South Solar donated the Outback Power Systems inverters, the solar array racking system, all additional equipment and the installation.
It was our original goal to provide classroom lighting to bring light during the dark rainy seasons, run fans to make the students more comfortable learning, and to power computers to help aid in the students' learning for all subjects.  Due to the length of time from the original request to the final installation time a big change happened at Respire Haiti.  There was a medical clinic donated and built by the group, 147 Million Orphans.  It became a priority to power the clinic over the classrooms so we changed our design and plans and did just that.  In January, 2016, the Respire Haiti Medical Clinic became solar powered!
The Future
Since the solar power for the classrooms and computer lab was diverted to the medical clinic, there is still a need.  If we can partner with another generous organization we'd like to go back in 2017 and provide an additional system for Respire.  After the development of the computer lab, there are plans to utilize the lab not only to educating the students, but to train the community in computer and other technological skills. Respire Haiti wishes to use any other electricity generated by the solar system to power a community center that they hope to build. The community center will hold parenting, health, life skills, French, and music classes; all classes will be designed to help bring awareness in raising children properly to decrease the number of children turning into restaveks, family planning, healthy living, and skills training.
We believe in Megan and Respire Haiti's cause in empowering a community and stopping the restavek tradition. We hope SolarWorld will join us in supporting this community with solar energy, so that further extensive teaching and skills training can be accomplished for the future of the Gressier community.
Further Resources
http://www.wafb.com/story/16956067/louisiana-native-opens-school-in-haiti
http://aconspiracyofhope.blogspot.com/2011/09/8-reasons-why-you-should-support.html