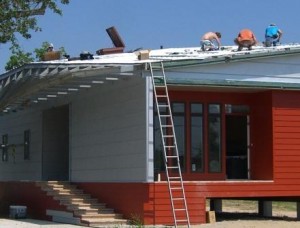 I will be the first to recommend combining energy efficiency with solar to lower your electric bill.  However there is a difference between the two.  Solar comes with hefty tax credits (currently 80%) to lower the initial cost.  Energy efficiency improvements do not receive a tax credit.
If a company offers to combine these two and tell you that you get a tax credit on everything they are committing fraud.  If you buy from them and turn in the invoice including energy efficiency improvements for tax credit then you are committing tax fraud.
This new solar scam started operating in the Baton Rouge area around mid-year 2014.  To initially run their operation here they hired xxxxx xxxxxx, an individual known in the area for numerous unlicensed fraudulent solar activities (under the name of xxxx Solar).  xxxx Solar has since gone out of business leaving a trail of uncompleted and botched work.  This new company started pulling permits by the dozens at the East Baton Rouge Parish permit office.  In the first 90 days they pulled 65 of the 98 solar permits in the entire parish which is very unusual for a new company.
The permits appeared suspicious as most of them were just for a 4 or 6 solar panels, while valued many times over what market rates for solar are.  While there is nothing illegal about grossly overcharging customers, these tiny solar systems by themselves will do hardly anything to reduce a customer's electric bill.  It appears that the company is combining these small solar systems with energy efficiency improvements and telling them that "everything" qualifies for the tax credit.
If the customers file for their 2014 state solar tax credit and include these energy efficient improvements (doors, windows, air-conditioners, thermostats, light bulbs, etc.) they will be violating the LA Department of Revenue rules.
A customer (almost victim) called our office to see how much 4 solar panels cost.  It aroused our suspicion as we know that a system that size would not make sense.  Once we asked more questions the scam was exposed.  As of this writing this company should be under investigation by the Attorney Generals office as well as the Department of Revenue.
Don't be a victim!  Anyone being approached by such a scam can report them to the Louisiana AG, or to the LDR Criminial Investigative Division, or to the LSLBC.