Inexperienced "Solar Installers" Have No Clue!

 We've always known that there are bad solar installers as well as good solar installers out there.  When we helped get the Louisiana State Tax Credit passed in 2008 there were only two solar installers in our state, us and an oilfield supply company.  Now there are 200 that have popped up in the last year or three.  We really had no clue that there are solar installers with "no clue".
Many of the permitting authorities are now using on-line systems to keep up with solar permits issued.  This allows public access to who is installing what (and where).  Our office decided to take a look and see how some of these installations were turning out by other companies apparently not so skilled in solar.
But the North Roof?  The first thing an eager new entrant into the solar field learns when they go to beginner solar class is "Where do the solar panels go?"  We teach installers that in the Northern hemisphere solar arrays face south in order to work properly and efficiently.  If they are facing the wrong direction they lose out on power production.  In fact, by using the industry standard calculator, PV Watts, it shows by that mistake alone there is a 40% drop in power production.
Here we have shown a Google Earth view of that installation.  There appears to be an array on the South facing roof (this is the silver rectangle on the top of the South facing roof.)  If you look directly above this array you will see another one FACING NORTH (dark long rectangle).   There appears to be plenty of room for that array on the South roof.
People pay good money for and expect a reasonable payback from their solar investments They should not have to get poor performance due to ignorance.  This will cost them thousands over the life of the system.
What's worse than North?   About the second thing we teach future installers on where to locate an array is how to avoid shade.  Shade kills the power production of an array and must be avoided.  Installers learn how to use the tools of the trade, shade analysis instruments like the Solar Pathfinder or the SunEye to avoid shade.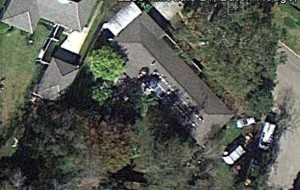 Using the permit database and Google Earth we looked at another installation by the same company and spotted an extreme shade issue (shown left).  This is a good example of where not to install solar.  By estimation, two or three of the maybe 15 modules are under complete shade and producing minimal power.  The sad part is that with a proper shade analysis or even common sense there is room to mount this small array on the Southeast end (bottom of photo) and/or the western most end of the Southwest roof where the shaded modules are mounted.
The state of Louisiana requires a photo of the shade analysis be turned in with the homeowners paperwork when applying for the tax credit.  Do you think they will supply this homeowner with the real shade analysis as shown here in the photo?
It is my hope that people researching the possibility of solar power for their homes will spend a little time researching who will install their system.  It doesn't matter if pop-up solar companies run radio ads or have flashy (most of the time canned) websites.  If mistakes like these are made with your investment it really won't matter if they are the lowest price.  You won't get your money's worth.
For more information contact me at Gulf South Solar.
Jeff Shaw – NABCEP Certified installer.